Marriage Counselling Course
Marriage Counselling Course
On the day that we get married, there is a current of vibrancy flowing all across our mind and body. Every atom of the environment encompassing us seems to be warmed by the everlasting radiance of love. There is a strange sense of fulfillment in us, for one of the biggest dreams of having found the right partner has come true. We're in seventh heaven!
Within this state of eternal joy and bliss, we step into the world of love and affection; believing that we can overcome any hurdle in life. We vow to absorb every social, financial, cultural interruption that might come to us.
As we progress in the journey of our life, we begin to gather the dust of monotony & our marital relationship takes a backseat. Matters and events that used to lift our spirits now become a dull daily routine.
Gradually, the state of joyfulness fizzles out. We communicate, share and express our affection lesser and lesser, taking each other more for granted.
Marriage Enrichment is a program aimed to enhance the beauty of a marital relationship. It promotes mutual understanding and encourages healthy communication. It enables couples to use conflict in creative ways that helps, and does not hinder the marital relationship. It helps acquire the skill of being able to effortlessly share their feelings and to develop and maintain a desire for intimacy.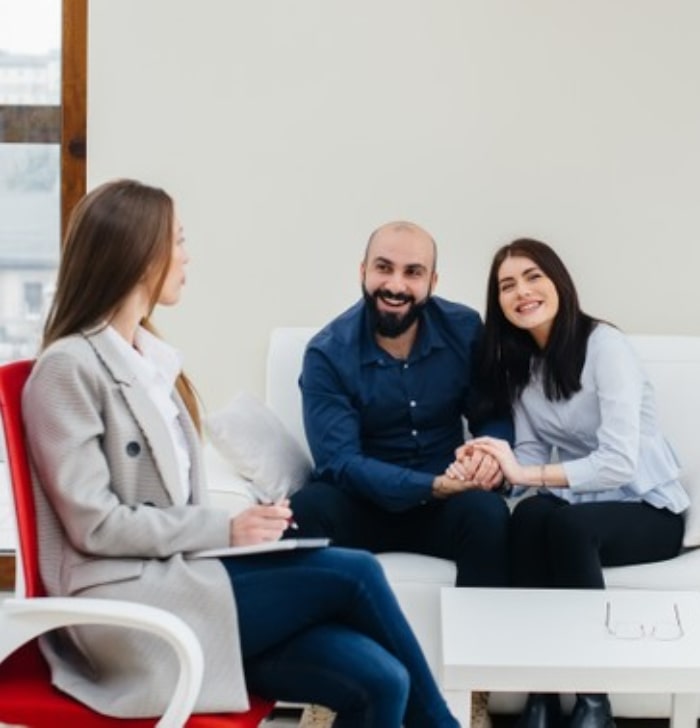 We are a junction of the century when every couple should think of attending an authentic Marriage Enrichment Program. It is not a Counselling Program, as the terminology denotes it is a non-directive program where the Couple Counsellor In Mumbai , through talk therapy intervention tries to resolve the issues that might have already crept in the married life, and brings the couples back to the normal relationship.
Thus Marriage Enrichment counseling is different to personal counseling . Here a married couple is already running a non-conflicted relationship, and yet they are aware that, there is scope for improvement or enrichment of their relationship to further levels, whereby they seal up once and for all, any harm that may or may not arise into their love and relationship.
WowNow Experts have an abundance of experience in conducting Marriage Enrichment counselling successfully. Based on the experience gained this way, the couple is encouraged to move with other groups of couples to see, enjoy, learn and practice how other couples with the same level of relationship work towards enriching their marriage relationship achieve success.
Primarily WowNow Couple Counsellor demonstrate how each couple can improve their communication skills, to first express themselves clearly to their life partners. The couples are encouraged about the importance of talking and listening to the other keenly. Most of the time, impatience, anger and jumping up to conclusions are the reasons for an eruption of misunderstanding, between every couple. Practicing these newly acquired skills, they are certainly inching towards success in their relationship.
Each individual, be it a male or female, come from different families, circumstances, environments, conditions in which they are brought up, like strict control or free liberty, and other impositions they undergo while becoming an adult. All these put together are factors that form their individuality or behavior aspect. When they are entering into wedlock with another individual coming from another family, it is but natural frictions and problems of ego show their heads. In the Marriage Enrichment Program, the couple gets a full exposure to such other contributing factors to their relationship.
Once learned, the couple can practice the same method back home and correct their previous style of talking to one another. There cannot be a better way of learning, how to communicate for the promotion of their inter-personal relationship.
Marriage Enrichment Counselling Program
In the course of the Marriage Enrichment couple counselling program, every couple attending learn by observation; practice it at home; check up the correctness or otherwise by even more keen observation of other couples' interaction next time. This way the couple can identify the issues emerging or possible to emerge in their smooth marriage relationships. They learn to tackle problem issues, if and when they emerge.
Emotions are the stumbling blocks in developing smooth relationships. Suspicions, disbelief, sudden explosion with anger without any basis, rhyme or reason are examples of emotional outbursts, spoiling husband-wife relationships in families often times.
During the open forum, when other couples in the group express the issues in their families that came as a hindrance by such emotional eruptions, and how they tackled them successfully, the couple watching the revelations take a lesson, not to give room to such incidents happening in their own life.
Another important factor for healthy family relationships is an expression of love and affection. Likewise, there are innumerable techniques that work successfully towards Marriage Enrichment between couples.
Many couples feel the reluctance to reveal their issues in the relationship openly since they consider their marriage is a private affair and live with compromised state of affairs. Effective and efficient Marriage Enrichment Programs by WowNow encourage more and more couples, to come out in the open to enhance and enrich their marriage relationships, to a higher and happier level.
Marriages are made in Heaven – they say. But Enrichment of Marriage is in the hands of the couples for sure!
Contact Us
Let us Help You
Copyright by © 2021 Wownow. All Rights Reserved. Designed by E2web